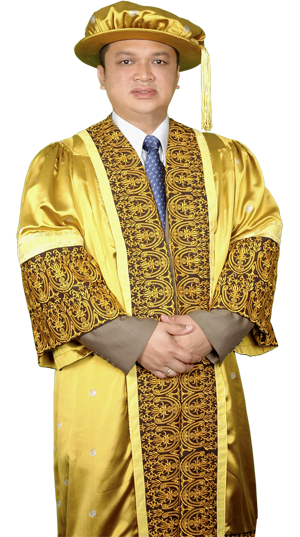 HRH TUANKU SYED FAIZUDDIN PUTRA IBNI TUANKU SYED SIRAJUDDIN JAMALULLAIL
RAJA MUDA PERLIS (CROWN PRINCE of PERLIS)

CHANCELLOR of UniMAP
D.K., S.P.M.P., P.A.T.,
Doctor of Education (Honoris Causa) La Trobe University Melbourne, Australia
Honorary Doctorate in Management Science, Yala Rajabhat University, Thailand
Born on December 30, 1967, His Royal Highness Tuanku Syed Faizuddin Putra Jamalullail is the eldest and only son of His Majesty Tuanku Syed Sirajuddin Ibni Almarhum Tuanku Syed Putra Jamalullail and Raja Permaisuri Tuanku Fauziah binti Almarhum Tengku Abdul Rashid.
Tuanku Syed Faizuddin started formal schooling in 1974 at Putra Primary School, Kangar, Perlis. He attended Derma Secondary School in Kangar in 1980, and from then on continued his studies at Penang Free School, Penang in 1983. In 1984, Tuanku Syed Faizuddin was sent to Carey Grammar School in Melbourne, Australia where he did his Form Five and then matriculation studies until 1985.
Tuanku Syed Faizuddin read Economics at La Trobe University, Bundoora, Melbourne, graduating with a Bachelor of Economics (B.Ec) degree in 1989. In 2002, he was awarded the La Trobe Medal, the highest honorary title of the University. He is the second recipient of the award after the President of Greece.
In 1990, Tuanku Syed Faizuddin Putra joined Malaysia Airlines in Kuala Lumpur as a Management Trainee and obtained exposures at the General Management department, Flight Control Centre (FCC), MAS Hotels and Boutiques (MHB) as well as Passenger Sales Department. From 1991 to 1995, he was International Sales and Marketing Executive for Australasia, Europe, Middle-East (AEME) and Indian Sub-Continent before moving to the International Sales and Marketing Executive for Asia and Africa Region. For both positions, he was based at the head office in Jalan Sultan Ismail MAS Building.
He became Area Manager for Spain, Portugal and Northern Africa based in Madrid from 1995-1998 and later Area Manager for Switzerland, Austria and Central Europe based in Zurich from 1998 to 2002.
Tuanku Syed Faizuddin married Her Royal Highness Tuanku Lailatul Shahreen Akashah on May 9, 1994. The Royal Couple are blessed with two daughters,Yang Amat Mulia Sharifah Khatreena Nuraniah and Yang Amat Mulia Sharifah Farah Adriana and a son, Yang Amat MuliaTuanku Syed Sirajuddin Areeb Putra Jamalullail.  Tuanku Syed Faizuddin and Tuanku Hajah Lailatul Shahreen performed their haj to Mecca in January 2004.
Tuanku Syed Faizuddin was awarded the honorary title Seri Paduka Mahkota Perlis (PMP) which carries the title Dato'Seri in conjunction with the Birthday of Tuanku Raja Perlis in 1998. In 2000, he was installed as His Royal Highness the Raja Muda Perlis. With the appointment, Tuanku Lailatul Shahreen Akashah became the Raja Puan Muda (Crown Princess).
On December 12, 2001, Tuanku Syed Faizuddin was appointed the Pemangku Raja Perlis for a period of five years when Tuanku Syed Sirajuddin Jamalullail was appointed the 12th Seri Paduka Baginda Yang Dipertuan Agong. He was also conferred the Bintang Kebesaran Darjah Kerabat Perlis (D.K.) on the same day. With the appointment, his career with MAS ended on January 31, 2002. On September 1, 2003, Tuanku Syed Faizuddin was appointed as the first Chancellor of Universiti Malaysia Perlis (UniMAP) by His Majesty the Yang di -PertuanAgong.
Tuanku Syed Faizuddin is a football fan. During his school days, he represented the state of Perlis in football tournaments organized by the Malaysia Schools Sports Council (MSSM). He is still active in football and is often seen supporting the Perlis football team in league matches. He is also an ardent fan of Manchester United football club.
Tuanku Syed Faizuddin currently leads the 504 Regiment of the Malaysian Territorial Army as a Commander with the rank of Brigadier General. He is also the President of Perlis Islamic Religious and Malay Customs Council (MAIPs) and the President of Perlis Putra Golf Club. He is also the patron of Malaysia's La Trobe University Alumni (PALTUM), the Red Crescent Society for the Perlis branch, Malaysia Chefs Association, Malaysia Football Project Ken Barnes Soccer Skills, Perlis Lawn Bowls Association, and the Association of the Congregation of Dato'- Dato' of Perlis. On 14 April 2015, he was proclaimed as the first Chancellor of Kolej Universiti Islam Perlis (KUIPs).
His Royal Highness Tuanku Syed Faizuddin Putra chairs the Tuanku Syed Putra Foundation. As a charitable institution, the foundation was formed to ensure and enhance educational and socio-economic development of the people of Perlis. It was so named after the then Tuanku Raja Perlis, His Royal Highness Tuanku Syed Putra Ibni Almarhum Syed Hassan Jamalullail.