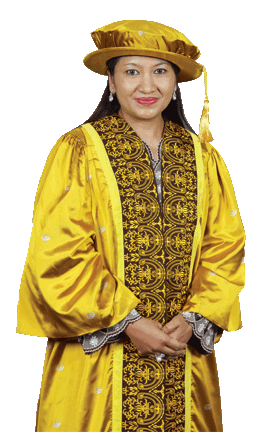 HER ROYAL HIGHNESS Tuanku Lailatul Shahreen Akashah Khalil, Raja Puan Muda Perlis

UniMAP PRO CHANCELLOR
S.P.M.P.
Honoris Causa in Health Sciences (Universidad Nacional Pedro Henriquez Urena, RD)
Her Royal Highness Tuanku Hajah Lailatul Shahreen Akashah Binti Datuk Khalil was born on March 28, 1970 to Datuk Khalil Akasahdan Datin Nik RahimahBinti Wan Ahmad.  She is wife to Tuanku Syed Faizuddin Putra ibni Tuanku Syed Sirajuddin Putra Jamalullail, and became the the Raja PuanMuda (Crown Princess) when Tuanku Syed Faizuddin was installed as His Royal Highness the Raja Muda Perlis. Together they have three children, Y.A.M. Sharifah Khatreena Nuraniah, Y.A.M. Sharifah Farah Adriana and Y.A.M. Syed Sirajuddin Areeb Putra Jamalullail.
The Raja Puan Muda went to school at Convent Bukit Nanas, Kuala Lumpur from 1977 to 1984. She left for Merton Hall - Melbourne Girls Grammar School from then on, and pursued undergraduate studies at La Trobe University. She obtained her Bachelor of Arts in Humanities from the university in 1992. She was well-liked by all at the university. It was also during her study at La Trobe that she met the Crown Prince. 
Tuanku Hajah Lailatul Shahreen Akashah has many interests and talents. In addition to reading, drawing and art, she enjoys ice skating, jet skiing and swimming. She has also attended several foreign language classes at elementary level including Mandarin, French, Spanish and German. Until 1995, Tuanku Raja Puan Muda held a position as the Administrative Manager of ASIE Sdn. Bhd but decided to resign when she accompanied Tuanku Syed Faizuddin Putra on official duties abroad.
The Raja Puan Muda is the Patron of the Association of Registered Childcare Providers of Malaysia, the National Autism Society of Malaysia for Perlis Branch, Women's Chamber of Commerce Malaysia (Dewanita) Perlis branch, Smart Reader Worldwide in addition to being Chairman of Malaysia La Trobe University Alumni (PALTUM). She is also the Chairman of Tuanku Fauziah Foundation (YTF).In addition, the Raja Puan Muda is also Honorary Major in the Malaysian Territorial Army.