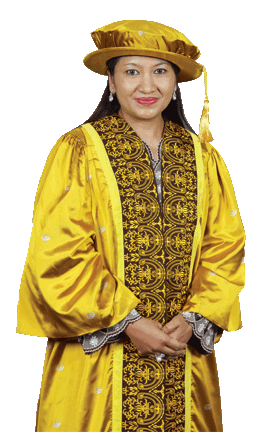 HER ROYAL HIGHNESS Tuanku Lailatul Shahreen Akashah Khalil, Raja Puan Muda Perlis

UniMAP PRO CHANCELLOR
S.P.M.P.
Honoris Causa in Health Sciences (Universidad Nacional Pedro Henriquez Urena, RD)
Universiti Malaysia Perlis (UniMAP) has been graced with a special member when Raja Puan Muda Perlis, HRH Tuanku Hajah Lailatul Shahreen Akashah Khalil was appointed as the first Pro Chancellor of UniMAP. This appointment was made on the recommendation of the University's Senate and has been certified by the Ministry of Higher Education Malaysia.
HRH Chancellor of UniMAP, Tuanku Syed Faizuddin Putra Ibni Tuanku Syed Sirajuddin Jamalullail has consented to appoint HRH Raja Puan Muda Perlis as the Pro-Chancellor of UniMAP for two (2) years and nine (9) months with effect from 13 March 2009 to 12 December 2011. The Pro Chancellor's role is to represent the Chancellor for the convocation ceremony or any formal ceremony invited the university. The Pro Chancellor shall hold the position on a duration consented by the Chancellor.
The appointment mandate to the Pro-Chancellor was given by the HRH Tuanku Chancellor to the HRH Raja Puan Muda Perlis in a simple ceremony held at Istana Arau on June 28, 2009.
The following is a biography of HRH Raja Puan Muda of Perlis cum Pro Chancellor of UniMAP.
She was born at the Kuala Lumpur General Hospital on March 28, 1970 and is the second out of four daughters of Dato 'Haji Akash and Datin Rahimah Nik Wan Ahmad. HRH Raja Puan Muda is a former student of Convent Bukit Nanas Secondary, Kuala Lumpur from 1977 to 1984. She then continued her studies in Melbourne, Australia for eight years. While in Australia, she initially studied at Merton Hall - Melbourne Girls Grammar School, and later at La Trobe University, which has awarded her a Bachelor of Arts in Humanities in 1992.
It is while studying in Australia that Tuanku Raja Puan Muda and Tuanku Syed Putra Faizuddin began knowing each other. Being friendly and good at making friends, she was well-liked by friends and acquaintances.
Tuanku Hajah Lailatul Shahreen Akashah has many interests and talents. In addition to reading, drawing and art, she enjoys ice skating sports, Jet Ski and swimming. She has also participated in a few basic languages ​​courses namely Mandarin, French, Spanish and German language. Until 1995, Tuanku Raja Puan Muda held a position as the Administration Manager of ASIE Sdn. Bhd but decided to resign when she began to accompany Tuanku Syed Faizuddin Putra performing his duties abroad for nearly three years in Madrid, Spain and four years in Zurich, Switzerland.
On August 1, 2002, Tuanku Hajah Lailatul Shahreen Akashah was awarded the official title of "Her Royal Highness Raja Puan Muda Perlis" when Tuanku Syed Faizuddin Putra was crowned as Raja Muda Perlis. Tuanku Hajah Lailatul Shahreen was awarded the Seri Paduka Mahkota Perlis (PMP) which carries the title 'Datuk Seri' on May 17, 2002.
She is the Patron of the Association of Registered Childcare Providers of Malaysia, the National Autism Society of Malaysia for Perlis Branch, Women's Chamber of Commerce Malaysia (Dewanita), Perlis branch, Smart Reader Worldwide in addition to being Chairman of MalaysiaLa Trobe University Alumni (PALTUM). Shewas appointed as the Chairman of Tuanku Fauziah Foundation (YTF). In addition, she is the President of a Private Higher Education Institutions (IPTS),Allianze College of Medical Sciences from 15th March 2009. She was also awarded the Honorary Major in the Malaysia Wataniah (Reserve) Soldier Regiment.
The vast experience garnered by Tuanku Lailatul Shahreen Akashah when abroad was put into good use. She often suggests ideas and discuss with Tuanku Raja Muda on ways to make Perlis more beautiful. With this appointment, it is hoped that she can continue to contribute ideas and share experiences for the benefit of UniMAP staff and students in driving this University to greater heights.